Cathedral Canon Pastor installed at Truro Cathedral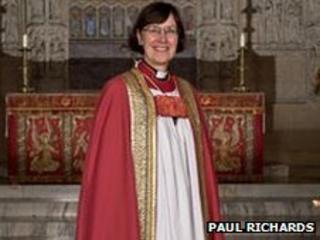 The Reverend Prebendary Lynda Barley has been formally installed as the new Canon Pastor at Truro Cathedral.
She will be working primarily as Diocesan Secretary, responsible for the administrative, planning, financial and personnel matters for the diocese.
However, she will be combining this with her joint post as the cathedral's Canon Pastor.
Mrs Barley comes to Truro from the Diocese of Exeter, where she has lived and ministered since her ordination in 1996.
'Valuable contribution'
For 10 years, she was head of research and statistics at the Archbishops' Council, continuing the themes of some of her earlier work; before ordination when she was a professional statistician and social researcher.
In recent years, Mrs Barley's ministry has been split between some Devon villages and Southwark Cathedral where she has been an honorary chaplain.
The Bishop of Truro, the Right Reverend Tim Thornton, said: "We welcome Lynda and her family to the Truro Diocese.
"Her expertise and skills will make a valuable contribution to the challenging work that we face as an organisation while her ministerial skills will be well used at the cathedral and across the diocese."
Mrs Barley will be based at Diocesan House, with some days allocated for her work as Canon Pastor.