Snatched baby Alpaca could die, Cornish owners say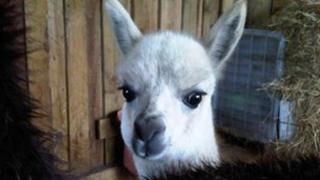 A couple from mid-Cornwall have claimed their baby Alpaca may only be hours away from death after being stolen over the weekend.
The nine-week-old alpaca called Kittykat was snatched from its mother at its home in Luxulyan.
Owner Emma Slater said the baby needed feeding every two hours and time was running out for her to survive.
Mrs Slater said: "None of this makes sense, without her mum she's going to die."
Mrs Slater said when she arrived to feed her pack of Alpacas on Sunday, she noticed the baby was missing and "searched all over the field thinking she was somewhere else".
"Very distressed"
She said she noticed along the edge of the field an area where somebody had obviously "jumped over the hedge and left footprints leading up to where the animals would have been sitting or lying at the time".
She said the alpaca's mother was "very distressed" and had been "wandering around the field looking and making a crying noise."
Emma said her five-year-old son - who saw the baby alpaca being born and named her - was also "very upset".
Devon and Cornwall police said due to the animal welfare perspective they had "raised the profile of the investigation."
Sgt Mark Stevenson, from St Austell police, said: "It does appear that if this Alpaca isn't returned to its mother within a couple of days then it won't be able to get the milk it needs and could die, so the timing of the nature is quite critical."
The police are asking for anyone with information to get in contact.