Call for 'strong' Cornish police commissioner candidates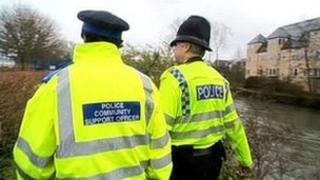 Cornwall needs to put forward strong candidates for the role of local police commissioner to make sure the county does not lose out, an MP says.
Commissioners for England and Wales' 41 force areas outside London are to take over from police authorities in 2012.
They will set budgets, priorities, and can sack chief constables.
St Ives Lib Dem MP Andrew George said Cornish candidates were needed to avoid the Devon and Cornwall post being a "done deal" for a Devon applicant.
Panel concerns
Mr George said differences in population numbers between the two counties - with about 500,000 in Cornwall and 1.14m in Devon - could easily mean a Devon-based applicant being elected to the post.
Fears about Cornish under-representation have also concerned Cornwall Council.
The Devon and Cornwall police commissioner will be held to account by a local panel made up of councillors.
But legislation meant that because Cornwall only had one unitary council replacing all of its former district and borough authorities, the county faced having only one councillor on the panel.
That is compared to potentially 11 for Devon, because of its higher number of district and unitary authorities within its county lines.
After lobbying, the government said the Devon and Cornwall panel could have the power to "co-opt" an extra five members, and suggested that those could come from Cornwall.
The commissioner plans have been controversial, with Labour and some Liberal Democrat MPs saying the new posts were a waste of money and would politicise policing.