St Columb RSPCA closed after suspected parvovirus outbreak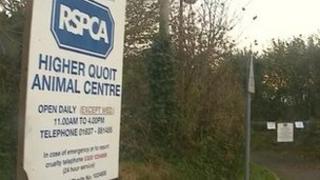 An RSPCA centre in Cornwall has been closed following the outbreak of a suspected contagious disease.
The centre, in St Columb, was shut over the weekend following the suspected outbreak of canine parvovirus.
Pet owners have been warned not to take any animals to the Higher Quoit centre until further tests have been carried out.
Centre manager Julia Pattison said it was believed that the virus had been contained in the meantime.
She said: "The affected animals are at local vets.
"None of the [other] animals at the centre have shown any signs at all, so we are very confident that we have it contained."
The charity said that its phone line would remain open to the public.
The virus attacks the gut lining, bone marrow and sometimes the heart.