Afghan insurgents tracked by Cornish helicopter crews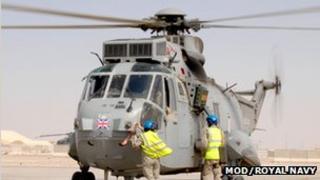 Helicopters and crews from RNAS Culdrose in Cornwall have captured more than seven tonnes of explosives while on operations in Afghanistan.
The Culdrose squadron, based at Camp Bastion, has also seized drugs worth more than £10m.
In the last two weeks the squadron has passed on 70 intelligence tip-offs to ground troops to follow up.
The squadron is using cutting-edge radar equipment on its Sea King helicopters to track insurgents.
Opium find
The Culdrose squadron, known as the Baggers, is flying up to 50 hours a week using specialist radar in a giant sack on the side of the helicopters, which follows the movements of insurgents on the ground.
In one instance, the squadron directed troops to three men in a truck which was carrying opium with a street value of £1m, while £250,000 of heroin was found on another vehicle.
Commander Pat Douglas, from Culdrose, said: "We may be only operating over Helmand and environs, but the impact of what we do spreads across the entire country.
"Every single time a vehicle we've tracked is stopped, and drugs or explosives are found by ground forces, we are making things a percentage safer for Afghan civilians and the forces who are protecting them."
The squadron has been in Afghanistan since May 2009.