Rosenannon Downs: Grazing to help wildlife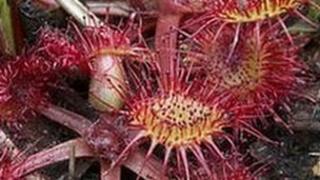 An area of common land in Cornwall is to have greater conservation management to help rare wildlife.
Cornwall Wildlife Trust has secured permission from the government to reintroduce cattle grazing on Rosenannon Downs near St Columb.
The site contains 108 hectares (267 acres) of lowland heath, one of Europe's rarest habitats, it said.
The trust said that management would help reduce uncontrolled fires and benefit rare fritillary butterflies.
The downs are owned by the wildlife trust but subject to commoners rights.
It has received permission from the Secretary of State to carry out the work.
Rare species such as the insectivorous sundew plant and the small pearl-bordered fritillary butterfly could benefit from the grazing, the trust said.
Cattle were grazing on the downs before the 1960s and the trust hopes to reintroduce them back on the moor by next summer.