Cornwall church lead thefts 'cause £70k of damage'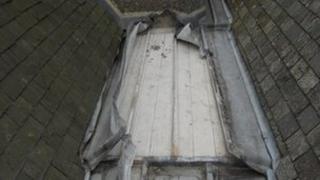 Lead thefts from churches in Cornwall in 2011 have caused an estimated £70,000 worth of damage, the Diocese of Truro has revealed.
The cost included replacing the lead, roof repairs and damage to fabric and contents in the churches after water leaked through the roofs, it said.
The diocese said there had been seven incidents in which lead had been stolen.
Police said they were working with scrapyards to find offenders.
David Watson, from the diocese, said church funds would be used to pay for some of the damage, with insurance also helping.
'Struggling costs'
Mr Watson said a church in mid-Cornwall recently had lead stolen from its roof and has had "interior fabric and irreplaceable items" damaged by rainwater since the theft.
He said that churches were "struggling to make ends meet" without these added costs.
Churches across Cornwall are using security marker pens to label their lead, he added.
A Devon and Cornwall Police spokesman said it was working with scrapyards across the county to gather intelligence on who was selling the lead and to try to find offenders.
He added that seizures had been made by working with scrapyards.
Other metals were also being targeted such as copper and certain types of steel, they added.
The diocese said it did not want to reveal the churches that had been targeted as it could encourage repeat attacks.
The Diocese of Truro has about 300 churches.