Book celebrates St Austell Brewery's 160-year history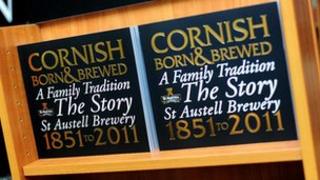 One of Cornwall's oldest businesses is celebrating 160 years making beer, by launching a book.
Cornish Born & Brewed, by Liz Luck, tells the story of how Walter Hicks remortgaged his farm to set up the St Austell brewery in 1851.
The company's pub estate began in 1863 when Walter Hicks bought the Seven Stars Inn in St Austell.
This pub remains part of brewery's estate which now spans Cornwall, the Isles of Scilly, Devon and Somerset.
The company's first brewery was built in 1869.
Ms Luck originally published a book about the history of the brewery in 2001, but she wanted to update her research with more about the company's background and recent achievements.
She said: "I think one of the most amazing things is how something can develop into such an important business for Cornwall from the vision of one man.
"Back then it was a time when one man could do anything. It was a time of enormous industry and innovation.
"Walter Hicks started with nothing. It gave me a great sense of pride to research the history."
Many of the founder's descendants are still involved in the Cornish business as shareholders, employees and directors.