Duchy of Cornwall metal detecting fee upsets enthusiasts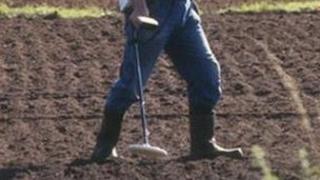 Plans to charge people for metal detecting on the foreshore of Duchy of Cornwall beaches have raised concerns among enthusiasts.
The Duchy estate has previously not allowed metal detecting in these parts of the county.
The organisation said it was responding to increasing calls from metal detectorists to permit their hobby on Duchy land.
But the treasure seekers claim a charge is unfair and would be unworkable.
The Duchy said the plans to allow metal detecting on the county's foreshores, the area of land between low and high water, were still in their infancy.
The estate said it planned to charge £60 for an annual permit but Cornish archaelologist Jonathan Clemes said: "People could just be walking the beach and finding these things without a detector. There shouldn't be a charge.
"You get people who go fishing on these beaches all day and you don't charge them, and how are you going to police it?"
'Rightfully upset'
Veteran detectorist Mick Turrell organises group expeditions and owns a shop which sells the detector devices.
He is puzzled about why he should pay to explore Duchy land, which is owned by the Prince of Wales, when exploring Crown estate land, owned by the Queen, is free.
He said: "Our problem is people are thinking of going on holiday. They have a choice; they can go and detect on the beaches on Crown estate land for free.
"If they come to Cornwall they have to decide if they can afford it because it is a lot of money they will have to pay out. They are rightfully upset about it."
A Duchy of Cornwall spokesperson said it was also issuing a holiday licence for £20, valid for up to two weeks, which would be aimed at families and individuals staying only a short time.