Lostwithiel palace urgent repairs set to start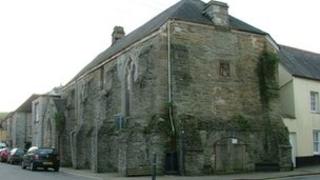 Emergency repair work is about to start on one of Cornwall's most historic buildings.
The work on the Old Duchy Palace, in Lostwithiel, is part of a bigger project to preserve and restore the building.
The 13th Century palace is on English Heritage's "at risk" list.
The initial repairs to the building will be followed by renovation works to provide office space, a meeting room and a heritage interpretation area.
Although the funding has not yet been finalised for this round of repair work, supporters of the building estimate the cost will be about £400,000.
The overall cost of the project, including buying the building, is thought to be around £1m.
The palace, which has had many uses in its past, was bought in 2009 by the Prince's Regeneration Trust to prevent it falling apart.
The trust said the funding package was still being assembled and finalised.
Plume of feathers
Trust chief executive Ros Kerslake said in a statement: "The trust has made excellent progress and secured support from private and public funders and urgent repair work to safeguard the building will be starting shortly".
Historians have said they believe the Lostwithiel palace was built by the Black Prince, the first Duke of Cornwall.
The building fell into ruin after the 17th Century, and surviving parts of the building were divided up into separate properties.
The Prince of Wales' plume of feathers is still visible on the building.