Penzance Harbour: 'Time is running out'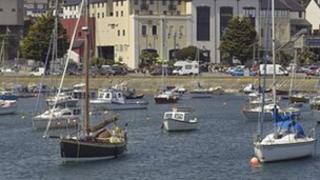 A Cornish MP has warned "time is running out" to make plans for the future of Penzance's harbour.
Andrew George, the MP for West Cornwall and the Isles of Scilly, urged campaigners to work together to come up with a new plan.
Earlier this year, the government announced it would not help finance a new ferry terminal for links between Penzance and the Isles of Scilly.
About 250 people attended a public meeting on Thursday to discuss it.
It was organised by the newly-formed Penzance Harbour Scheme Management Board and consultants Hyder.
The Department for Transport has given the town £69,000 to be spent working up a new plan to improve facilities for the Isles of Scilly ferry.
Mr George said they did not "have much time now, time is running out".
He added: "In development terms, some people are saying it's too late, we have to consult the public, bring forward the plans, do the costings, get the applications in, and build the whole scheme within two or three years."
'Clean sheet'
Tony Woodhams, of Penzance Town Council, said it was important that local residents put old disputes behind them.
Mr Woodhams said: "They must put all their differences away. What we've come to now is a clean sheet of paper. All the questions have been asked, we just need to look at the answers and come up with a sensible project."
Nearly £4m was spent on a failed bid for a ferry link between Penzance and the Isles of Scilly.
Cornwall Council spent £2.53m, with a further £1.31m coming from the government and from European funding.
The plans were dropped after the government refused to contribute £35m claiming it was "a scheme that was very poor value for money".
The timetable for this project is tight, a final option needs to chosen by early next year ready for presentation by next April.
To get Department for Transport and European funding the project would have to be completed by the end of 2015.