Paignton blind woman campaigns for better road crossing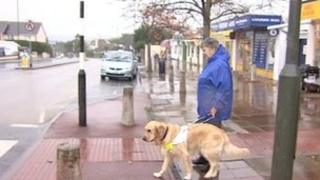 A blind woman from Devon has said she will go without bread and milk if she remains unconfident in crossing a road.
Rose Hewitt says she finds it difficult crossing the staggered zebra crossing at Goodrington in Paignton and is campaigning for an audible crossing.
But businesses said such a crossing would "kill" trade as car-parking spaces would have to be removed.
Torbay Council said it did not currently have the funding to change the crossing.
'Congest traffic'
Ms Hewitt said: "When I have crossed the first half of the crossing, then I can't hear what's happening on the second half because of the noise of the traffic behind me.
"It's a very busy road and it's even worse when it's wet.
"If I'm not feeling 100% confident I will stay at home, I can run out of milk, I can run out of bread but I won't come out and get it if I don't feel confident enough on this crossing."
Torbay Council said it had considered installing traffic lights which beeped but business owners said this would affect trade.
Terry Stringer, a shop assistant, said: "It's going to kill trade for a start because nobody will be able to stop at all and there's very little parking there now and it's just going to congest traffic."
Torbay Council receives money from the government to pay for road safety schemes, but the council said it had had to use the funds elsewhere where accidents, including fatal crashes, had happened.
A spokesman said: "We have drawn up some proposals and consulted with the community on changing it and it has been considered by our elected members as a potential road safety scheme.
"Unfortunately at this moment in time we don't have the funding, but it will be considered again in the future."