Appeal against rejection of Cornwall incinerator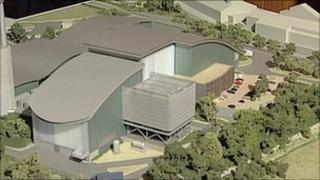 The Communities Secretary is appealing against the rejection of plans to build a £117m waste incinerator in Cornwall.
Cornwall Council had proposed the incinerator at St Dennis to deal with about 300,000 tonnes of waste a year.
However, campaigners who claimed it could damage people's health and the environment won a High Court fight in October to reject planning permission.
Secretary of State Eric Pickles was to appeal against the court's decision, the Communities Department confirmed.
The scheme at St Dennis was originally refused by the former county council in March 2009, but the government later overturned the decision.
'Legal implications'
Cornwall Council, which was created as a unitary authority in April 2009, urged Mr Pickles to back the plans.
Mr Pickles had granted permission for the energy-from-waste plant in May 2011 to let the county deal with the fact it was running out of landfill space.
It would mean avoid transporting waste out of the county and Cornwall Council having to pay landfill taxes.
But planning permission was overturned by the High Court in October.
It ruled that the government had not properly considered whether an environmental assessment had to be carried out.
Clarity 'needed'
The Department for Communities and Local Government said: "We can now confirm that the Secretary of State is lodging an appeal against that decision at the Court of Appeal.
"Given the legal implications, we cannot comment any further on the specific details of the case."
Cornwall Council said it welcomed the appeal because it would "enable the legal situation to be clarified and hopefully will end the uncertainty for everyone involved".
It added that council members and officers would be "following any developments very closely".
Waste firm Sita UK, which was awarded the contract to build and manage the plant, also welcomed the decision, saying: "We hope that the appeal will be heard as quickly as possible, as the people of Cornwall need clarity over the way their waste problem will be managed."
The company had previously warned that delays in the project could raise its costs to more than £200m.