Cornish welder Richard Vasey's work used as sailing trophy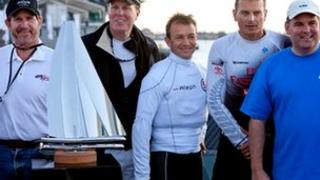 A trophy for an international sailing event has been made by a welder-turned-sculptor from Cornwall.
The stainless steel racing boat, presented at the America's Cup World Series in San Diego, was created by Richard Vasey from Looe.
Event organisers were shown the trophy during the Plymouth stage of the series.
Mr Vasey's work was also presented to the British Olympic Sailing team after their success in the last games.
Mr Vasey decided to become a sculptor while working as a welder on oil platforms in the North Sea.
He said it gave him "time to think what I would really like to do".
"I started off small with bits and pieces and made one for my wife," he said.
"It was seen by a guy who wanted some sailing trophies and it has built up from there slowly.
"I had made an AC45 knowing that the America's Cup was coming to Plymouth, but I was wasn't sure how to get in to show them."
Mr Vasey went to Plymouth and managed to "bump in" to JJ Fetter, a native of San Diego and former America's Cup sailor with America3 in 1995, who is now a member of the local organising committee.
"The security guards wouldn't let me in to start with, but JJ Fetter came down to see me and it took off from there," he explained.
"She saw the trophy under my arm and and it all went from there basically.
"The trophy was sent out to America and presented."
The sculptor is currently working on trophies for the top level Extreme 40 circuit and next years transatlantic race from Plymouth to Newport, Rhode Island.