Cornish residents fear more flood misery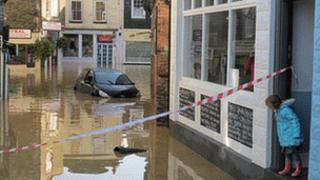 A year after floodwaters overwhelmed scores of homes in Cornwall residents fear more flooding.
Some people affected by the November 2010 floods have still not been able to return to their homes.
Families have spent the year struggling to get back to normality and the authorities have been working on community flood plans.
More than £500,000 has been set aside to help protect individual homes from future flooding.
'Sandbags staying'
About 230 homes and 400 businesses were affected by flooding on 17 November 2010, with water reaching up to 6ft (2m) deep in places.
Mevagissey, Lostwithiel, St Blazey and St Austell were among the worst-hit areas.
Many residents, such as Amos Putt from St Blazey, said the sandbags were being kept permanently in place.
Mr Putt said: "Until something is done properly, those sandbags will stay there. It's not very nice to be sat on a deck chair on Christmas Day, having your dinner on an old table because everything is gone."
Residents in Lostwithiel, Par, St Blazey and Mevagissey say they live in fear of further flooding.
Charles Richards from the Par and St Blazey Community Flood Group, said: "Everybody's fears became reality when on the 24 October we had very heavy rainfall.
"This time though it was spread over a 10-hour period, rather than just three hours, but we really struggled to cope again."
Property protection measures
Since the flooding last November, officers from Cornwall Council and the Environment Agency have been working together to investigate how flood risk in the main affected locations could be reduced.
A bid by Cornwall Council to the Environment Agency for funding to help householders protect their homes against future flooding incidents means that £586,000 was made available and work is about to start on individual property protection (IPP) measures.
Cornwall Council's principal environment projects and technical officer, Martin Clemo, said: "To make the properties more resistant to flooding, IPP measures including door guards, airbrick covers, non return valves and pumps are about to be installed.
"Where necessary further work to re-point and/or render stonework will also be carried out."