Cornwall Council postpones decision to close 114 public toilets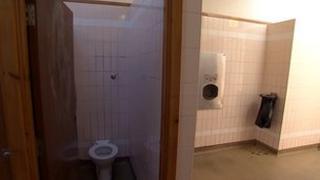 Plans to cut funding for 114 public toilets in Cornwall have been postponed.
Cornwall Council proposed to stop paying for the cleaning and operation of 114 of its 247 toilets to save money over the next four years.
But many people objected to the plans including councillor Rob Nolan who said it would be "civic vandalism".
The cabinet approved a recommendation that the issue be put on hold for a year for further consultation.
Full council will now be asked to consider where £1m can be found to cover the costs of keeping the toilets open next year.
Following the result Mr Nolan, who is also mayor of Truro, said: "It's welcome. It gives us an opportunity to sit down and talk sensibly about what toilets we could take over and how we're going to finance it, and make the case for those that need to stay open and be maintained."
'A ceasefire'
Andrew Wallis, the Independent councillor for Porthleven said: "I welcome the saving of the toilets but I'm also quite sceptical about what else has lost out.
"I think this is a ceasefire until such time as they come up with more plans."
He added that he believed some money could be saved if interested town and parish councils took on the toilets in their area.
Although the Conservative-run council has no statutory responsibility to provide public toilet facilities, it currently spends nearly £3m a year running the conveniences - with cleaning costing about £1.2m.
Under the council's plan, the money that would have been saved would have been used to help towns and parishes run the remaining 134 toilets for at least two years.