Mount Edgcumbe country park estate to sell cottage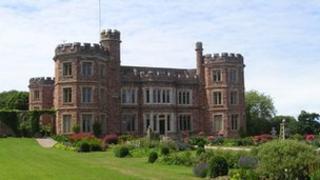 Part of the Mount Edgcumbe country park estate on the Rame Peninsula in south east Cornwall will be sold off.
Cornwall Council's cabinet approved a recommendation to sell Picklecombe Cottage and nearly five acres of land.
The joint decision with Plymouth City Council includes re-investing money from the sale back into the park.
Earlier this year, the estate reported a loss of £300,000 and said subsidies from taxpayer and tourist revenue were insufficient to meet running costs.
Picklecombe Cottage is a Grade II listed, three-bedroomed house in five acres of gardens and has its own access to the beach.
The beach is also included in the £600,000 sale price.
Family home
The chairman of the Friends of Mount Edgcumbe Country Park, Gordon Crocker, said: "As a committee we have no problem with it. The cottage is not in the core area of the park. It's on a private road.
"It's a building that is in need of some repair. Selling this one building off we don't think will have any detrimental effect on the park."
The estate was built in the 16th Century by Sir Piers Edgcumbe, who acquired the land through marriage.
It was then a family home for more than 400 years.
The current Earl Edgcumbe, the 8th, is Richard Edgcumbe and he still has an address on the estate, although he also has property interests in New Zealand.
The area being considered for sale is a relatively small part of the 860-acre estate, but this would be the first sell-off of its kind by Cornwall Council in one of its country parks.
Although the property does not appear on the council's website of assets it is trying to sell, it is already being advertised by estate agents.