Thieves target Imerys' overhead power cables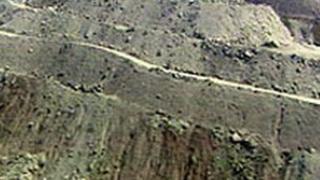 The China Clay company Imerys has said it is "horrified" by the actions of thieves who tried to steal metal from overhead power lines in St Austell.
Over the past two weeks thieves have targeted Imerys' earth lines in Whitemoor, Nanpean and Greensplat.
The company said the earth wires were situated close to live wires carrying up to 11,000 volts of electricity.
It is not the first time the company's power lines in mid Cornwall have been targeted.
In July thieves cut the stay wires of a terminal pole at Hensbarrow Downs, near Roche, to try and get to the cable.
A company spokesman said: "We cannot stress strongly enough how dangerous tampering with, or damaging overhead power lines can be, not only to the thieves themselves, but also potentially to Imerys' workforce and the general public."
Imerys said it was working closely with the police.
A spokesman for Devon and Cornwall police said: "Metal theft across Cornwall is a growing issue. We are working hard with commercial and businesses to advise them on crime prevention measures they can take."
Devon and Cornwall police has asked anyone who sees a person acting suspiciously around commercial premises to contact officers.