Cornwall Council bids for trunk road ownership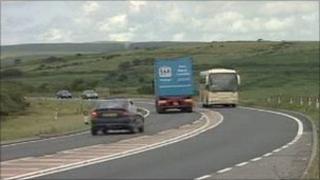 The cost of tackling the remaining bottlenecks on Cornwall's major roads could soon be the council's responsibility.
This week senior councillors will be discussing whether to press ahead with a bid to take control of the A30 and A38.
The A30 and A38 trunk roads in Cornwall are currently managed by the Highways Agency.
The council has to lobby the government for funds for any improvements.
The Department for Transport has indicated it would not be considering any other improvement projects until 2020.
Recent upgrades the government approved were the £88m A30 Bodmin to Indian Queens improvements and the £54m A38 Dobwalls bypass.
If the council was awarded control, it would be able to press ahead with projects such as the dualling of the sections at Temple and between Carland Cross and Chiverton roundabouts.
Mick Martin, the chair of the Temple A30 action group said: "Even on the half term a couple of weeks ago it was up to five miles, which is half an hour traffic jam. People can't stick it anymore, that's the message I have been getting.
"We have a website, and people report back on that saying they won't be coming to Cornwall again."
'Arguments with Whitehall'
Tourism officials in the county are keen for the road improvements to happen.
Malcolm Bell, from Visit Cornwall, said: "We would ideally want no toll or tax, but we have got to find a way of funding it and that's where we have to be lateral and inventive.
"If it's in Cornwall's hands we've got more of an ability to do it rather than just having arguments with Whitehall."
Cornwall Council's cabinet will meet on Wednesday to discuss whether to press ahead with a strategic case to present to the government.
Nigel Blackler, the Head of Transportation at Cornwall Council, said: "It would allow the council to prioritise on the network in the future and for the council to consider a variety of funding sources to finance road improvements in the future."
The local authority said funding details would follow if approval was given at this stage.
The council hoped the transfer could happen as early as April 2014.