Investigation into Polperro flats fire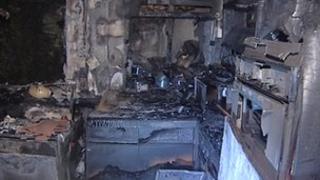 Fire investigators will start trying to find the cause of a fierce blaze that swept through a block of flats in Polperro in south east Cornwall.
More than 50 firefighters tackled the blaze on Talland Hill on Saturday afternoon, amid fears people were trapped inside.
A woman escaped from the building and was treated in hospital for breathing smoke.
A second woman was treated at the scene of the incident.
The incident commander, station manager Richard Gibbons from Bodmin Fire Station, said: "The firefighters worked extremely hard to limit the fire spreading to the upper floors.
"Although there is severe damage to the ground floor, the upper floors have mainly suffered only smoke damage."