New monitoring roles for local pharmacists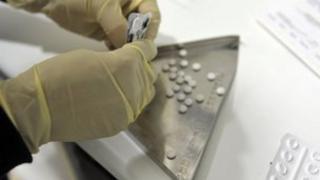 Pharmacists in Cornwall and on the Isles of Scilly are to play a greater role in looking after patients.
Two new schemes have been launched in an attempt to ensure patients are taking their medicines.
The services will also allow them to discuss any side effects and problems they might have with drugs they are taking.
The Cornish health schemes have been launched to coincide with self-care week.
The new medicines service is intended to target those taking medication for the first time.
If patients consent in writing, then the dispensing pharmacy will contact them to check if they are adhering to their treatment.
Any concerns can then be discussed with the pharmacist, who may refer the patient back to their GP.
The second service offers medicine use reviews to three specific groups; patients discharged from hospital with a change in medication; patients with respiratory disease taking specified medication and patients on medicines that have potentially dangerous side-effects.
Georgia Praed, Cornwall PCT's deputy head of prescribing and medicines management, said the new services would ensure medications were reviewed by a qualified pharmacist "to make sure there are no issues to prevent their safe and effective use".