Cornwall currency 'not sensible'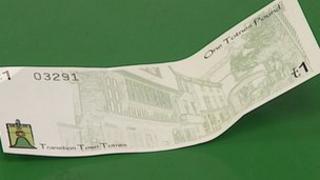 One of Britain's leading economists says proposals for Cornwall's own currency are "not viable or sensible".
David Blanchflower, a former member of the Bank of England's Monetary Policy Committee, rejected the idea by Ian Jones, head of Volunteer Cornwall.
Mr Jones said the county should be considering radical ideas to protect its economy in the economic downturn.
He wants a Cornish pound like the Totnes Pound in Devon which keeps local currency in local circulation.
Mr Blanchflower told the BBC Politics Show: "There's no reason why Cornwall couldn't have its own banknotes like Scotland, but it's not viable or sensible for it to have its own central bank.
"It can't have its own monetary policy like we assume it's not going to have its own army."
Mr Jones admits the logistics need some thought, but points to the success of the Totnes Pound which has been in circulation since 2007.
It can be used in about 70 shops and businesses in and around the town.
Councillor Chris Ridgers, in charge of economy and regeneration at Cornwall Council, said: "The plumber, electrician and carpenter all live locally to me so the money I spend on them, they keep in Cornwall on goods and services.
"It is not about a separate currency, it is about bringing work into Cornwall."
The Politics Show, Sunday 15:10 GMT on BBC One