Mexican pasty bakers seek Cornish inspiration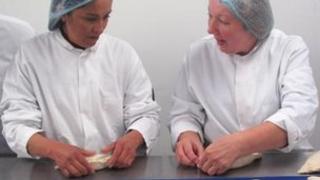 A group of Mexican pasty makers have visited their Cornish counterparts to learn more about the popular snack.
The group of five bakers from the mining town of Real del Monte travelled more than 4,500 miles (7, 242 kilometres) for the week-long Cornish visit.
The Mexicans also tried their hand at crimping a pasty in the Cornish-style.
The group visited ahead of the opening in March 2012 of the world's first pasty museum near Mexico City.
The historic links between Cornwall and Real del Monte date back to 1824 when Cornish mine workers settled in the area to help rebuild Mexico's struggling mining industry.
The Mexican version of the pasty is called the 'paste' and is made to a slightly modified recipe.
Jaime Soto, Chairman of Consejo Regulador del Patrimonio Cultural Real del Monte Cornwall AC (The Regulatory Council for the Cornish Heritage of Real del Monte), said: "In Mexico we do not have any branding or images, posters and books.
"We now want to include this in our pasty shops and create an organisation to work for the industry in Real del Monte."
Real del Monte also holds the world's only International Pasty Festival which took place last month and attracted 20,000 visitors.
The group's tour of Cornwall has been organised by Richard and Pam Williams of the Cornish Mexican Association.