Cornwall's Wingz bird and animal sanctuary may be sold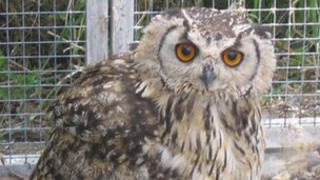 A couple from mid Cornwall who run a bird and animal sanctuary say they might have to sell their attraction.
Grenville and Anita Allen have spent many years setting up the Wingz Bird and Animal Sanctuary, near St Blazey.
The couple saw visitor numbers increase by 50% this summer season, but said it was not enough to cover their costs.
The owners said they had looked at various options to safeguard the sanctuary's future.
News 'not spreading'
The sanctuary faces a shortfall of about £4,000 to cover the cost of running it through to next April when it reopens daily for the summer season.
The family-run business features the couple's private animal and bird collection built up over 26 years.
Mr Allen said: "The business has been going well. We've just found that we've run out of private finances to keep it going for the next couple of years while it really builds up to be the success we know it can be."
The food bill for the centre's 250 birds and animals is about £150 a week. Heat lamps are also needed 24 hours a day.
The owners carried out their own survey around the mid Cornwall area to find out how many people knew about the sanctuary.
More than 80% said they had not heard of the attraction.
Mr Allen said: "I was astounded myself. We thought we'd covered as many advertising angles as we could afford. We thought news of a zoo in this area would spread quickly, and it just hasn't."
One of the options the owners said they have considered is becoming a registered charity.
Christina Manicom, from the Charity Commission, said: "There are lots of benefits. There are financial advantages like tax breaks.
"It's often easier to raise funds from the public or grant making bodies. People tend to look out for the registered charity number."
'No progress'
Mr and Mrs Allen admitted the future looked uncertain.
The centre needed 6,000 visitors to help them financially through the winter and into the next season, they said.
Although numbers were well up, only 3,600 people visited Wingz during the season.
Mr Allen said: "At this very moment in time we cannot take it forward.
"I cannot see any reason not to put it on the market at the moment. I think the situation has got to the point where we have to do this."