Camelford residents determined to keep leisure centre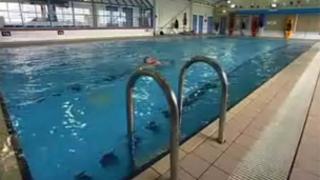 People who use Camelford leisure centre in north Cornwall say they are determined to keep it open.
Cornwall Council announced a year ago it would be withdrawing funding for the centre.
The authority's subsidy runs out next March but a local group has been set up in an attempt to secure its future.
Members said they were confident they could raise the £100,000 a year needed to keep the facility open.
Staff and opening hours reduced
Since the council's announcement, the number of staff has been reduced from eight to six and opening hours have been cut.
New types of membership schemes have been introduced which has seen income from that source go from under £500 a month to more than £2,700.
The mayor of Camelford, Rob Rotchell, is the chairman of the group hoping to take the town's leisure centre forward.
"The group has to come up with a viable business plan by the 31 December. If they do that, then Cornwall Council will offer us help.
"We set up the Friends of Camelford Leisure Centre and they have already had one very successful fundraising event. We have to be optimistic."
The centre is used by the town's schools and Cornwall Council said talks were continuing between the school and the local community to find a long-term solution.
Based on the outcome of those discussions, the authority said it may consider providing what it calls "further operational support" for the centre.
Mr Rotchell said: "The council is clear they want the centre to stay open. But they can't allow it to stay open giving the massive subsidy they have in the past. It's got to be more self-sufficient."