Hayle flood wall work begins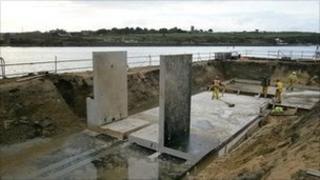 Work has started on a £1.6m flood wall to protect a Cornish town from the sea.
It is being built around Hayle's North Quay as part of a £14.2m harbour redevelopment scheme.
The wall will be about 1,900ft (580m) long and 13ft (4m) high and will protect the development during high tides, Cornwall Council said.
The project, which includes a new business park and bridge, is expected to be completed in autumn 2012, the authority added.
Cornwall Council said it was the first major construction works on North Quay since the end of World War II.