Local views sought for Penzance harbour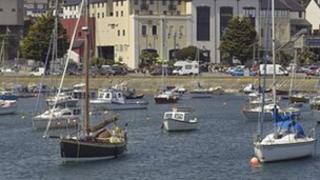 Residents are being asked for their views on the future development of a west Cornwall harbour.
Penzance Town Council has been given £69,000 by the Department For Transport to move plans forward.
A new group will be holding a public consultation to find out what residents want for Penzance harbour.
Earlier this year the government announced it would not help finance a new ferry terminal for links between Penzance and the Isles of Scilly.
John Maggs, from the Penzance Harbour Scheme Management Board, said: "This is the beginning of a new process. Obviously a lot of the ideas will have been floating around from the old process.
"This has been designed to identify a popular way of improving facilities in Penzance harbour for the Penzance and Isles of Scilly link.
"We want people to understand the process and bring forward their ideas to the meeting."
Nearly £4m was spent on a failed bid for a ferry link between Penzance and the Isles of Scilly.
Cornwall Council spent £2.53m, with a further £1.31m coming from central government and European funding.
The plans were dropped after the government refused to contribute £35m claiming it was "a scheme that was very poor value for money".
The public meeting hosted by the new board, will be held at St John's Hall in Penzance on 17 November at 19:30 GMT.