Cornwall's parliamentary constituency consultation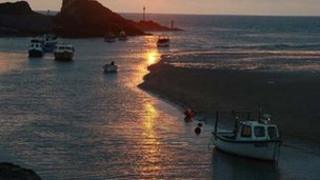 A two-day consultation has started on proposed changes to Cornwall's parliamentary constituencies.
The Boundary Commission has suggested Bude in north Cornwall and Bideford, in north Devon could be in the same constituency.
It is also proposing restoring the old seats of Falmouth and Camborne and Truro and St Austell.
The town of Hayle would return to the St Ives constituency. The consultation nationally will end on 5 December.
Dan Rogerson, the MP for north Cornwall, said: "People in the area are very clear that they want to stay within a Cornish constituency and I completely understand that.
"These are proposals that whatever is agreed would have to go through a vote in Parliament. When I give evidence in Truro, I will be passing on the views that people have already expressed to me.
"They don't want the border to be crossed, but if it is, then people have views on the naming of the constituency."
The Boundary Commission is holding hearings, in public, at the Alverton Manor Hotel in Truro on Thursday and Friday.
Sam Hartley, from the Boundary Commission, said: "Parliament has set us some very tight rules. They have asked us to reduce the number of constituencies and equalise the number of electors as far as possible in each constituency.
"What we have tried to do with the Bideford and Bude constituency is to get a good balance of electors between Cornwall and Devon, but we're here, and we're listening.
"We want to know if that is the right place to cross the county boundary."