Padstow teenager's tractor slurry death accidental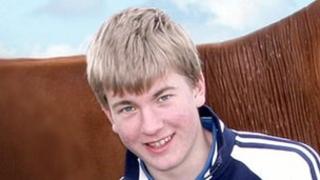 The death of a young farm worker who fell into a slurry pit in his tractor was accidental, an inquest has ruled.
Jordan Orriss, 16, from Rumford, near Wadebridge, died of asphyxiation at Treginegar Farm, near Padstow, in March 2010.
A jury at Camborne heard there was a catastrophic failure of the Massey Ferguson tractor's clutch system.
The tractor crashed through a block wall and turned over, trapping Jordan Orriss beneath the slurry.
Jordan, who was a student at Wadebridge School, had been working part-time on the farm - on Saturdays and Sundays - for six months when the accident happened on 28 March 2010, the inquest heard.
After the crash, the alarm was raised by a farm worker.
Jordan's employer, farm tenant John Pollard, told the inquest he jumped into the pit to try to save Jordan, saying: "I was just hoping and praying I could get him out."
Mr Pollard added that the teenager was a "great boy and a good worker".
A health and safety inspector told the hearing that the tractor's manufacturers had described the clutch failure as a "freak event".
The inquest jury took 30 minutes to reach its verdict.