Denominations could share churches says Bishop of Truro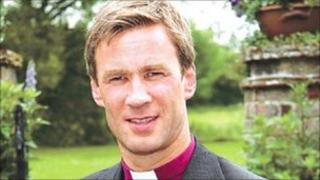 Christian denominations will be worshipping in the same churches in 20 years time according to the Bishop of Truro.
The Right Reverend Tim Thornton said a radical rethink was in order to reverse a national decline in the number of people going to church.
In the future there will also be a 40% reduction in the number of paid clergy, he said.
The bishop believes more lay people involved in the running of the church.
He said: "What we're looking at now is recognising every single baptised person as a disciple, that's a learner, and we need to learn together. And we need to invite other people to come and join us.
"Churches will become more self sufficient. It's a reaction to a range of circumstances. I can't deny that money is part of it. In the next 10 years of the clergy across the country will retire. It's to do with the demographics and that's another issue."
The bishop also said that denominations such as Anglicans and Methodists will find themselves sharing church buildings.
He continued: "Already right across Cornwall many of our clergy look after or work with five, nine, 12 or more churches.
"We might be looking at local people living near local churches who ought to become the ordained person. Instead of bringing in an outsider, what we're talking about is within the church there will be a group of people locally who have particular gifts or skills.
"One of those might be the person who leads the prayers and heads up the spiritual work. Another lay person might be the one who does the work with children and schools.
"Some evidence shows that if it's the traditional vicar model, churches only grow to a certain limit, because in a sense you're only focusing on one leader.
"If you have a team of people all fired by their faith, some evidence shows the churches are likely to grow more."
The bishop's assessment of what needs to change is shared by the chairman of Cornwall's Methodists, the Reverend Steven Wild.
In the mid 19th Century Cornwall was a major centre for Methodism. But now membership of the Methodist Church in Cornwall has fallen 8% since 2008.
More than 60% of Cornwall's Methodist churches have less than 30 members. Average attendance for Sunday and mid-week services has fallen 7% in the last two years.
Mr Wild said: "There are some very serious things to look at for the future. We will have to face reality before it gets too late."
Chapels across Cornwall have closed and Mr Wild said it was vital to take action now to encourage more people back into church.
He said: "I think that now is the time to look at where the church is going to be in the future. I have every confidence there will be a church in the future and the Christian faith will continue to grow no matter what happens. Where I do feel concern is sometimes how we try to face that."
From Monday 14 November, BBC Radio Cornwall's Donna Birrell will be presenting a series of reports about the future of Cornwall's churches. Hear Faith under Fire each morning on BBC Radio Cornwall's breakfast show.