Smallholders guild's concern for Cornish food markets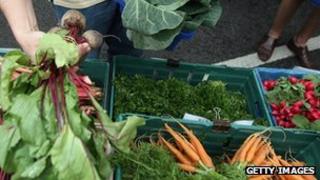 There are fears new EU food and drink labelling rules could prove too costly for some Cornish producers.
Regulations requiring detailed nutritional information on labels are expected to be in force by the end of the year.
Suppliers will have between three and five years to comply.
The Government says small quantities of handcrafted food are exempt and they will be working out what this means in practice.
Celwyn Richardson from the Cornish Guild of Smallholders said: "The worst case scenario is that the local authority will be forced to enforce regulations which would effectively close down all the farmers' markets, the WI markets, all the farm shops and all the small producer people."
The guild fears the potential cost of changes to packaging could be as much as £7000 per product.
But South West MEP Graham Watson thinks the move will be good news for the consumer.
Mr Watson said: "Food from Cornwall is exported all over the European Union. It is in our interest to be part of the labelling system.
"Cornish producers will have better markets because people buying their products will be able to see the quality of it."
Mr Richardson said the Cornish Guild of Smallholders would be lobbying hard to make sure their local suppliers are protected.