M5 crash: Tribute to killed lorry driver from Cornwall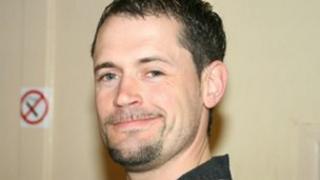 Tributes have been paid to a lorry driver from Cornwall who died in the crash on the M5 in Somerset on Friday.
Kye Thomas, 38, from Gunnislake, was one of seven fatalities in the 34-vehicle crash at junction 25 near Taunton.
Father-of-four and taekwondo instructor Mr Thomas went to school in Plymouth and had previously served in the Army.
His friend, Dale Trevail, from Callington, said Mr Thomas was a keen family man and a "great guy".
Mr Trevail, who had competed in a number of taekwondo tournaments with Mr Thomas, said: "He was a friendly, approachable, good guy. I don't think anyone disliked him."
"He was brilliant with his children and his wife and he would do anything for anyone.
"If I ever needed to talk to one anyone, he was always there."
'Hearts go out'
The Rural Dean who oversees churches in both Callington and Gunnislake, the Reverend Peter Sharpe, said: "There is a feeling of great sadness, but there is a real community here that I think will draw together to support people."
Mr Thomas lived at St Ann's Chapel, near Gunnislake and Callington.
The chairwoman of the local parish council, Jane Moore, said: "Mr Thomas was a family man. His children go to the school in the community.
"As soon as we heard the news we had the feeling there could be somebody from the community involved.
"A lot of local people use the M5 regularly. Our hearts go out to the family and all the others involved in this terrible accident."
As well as the deaths, more than 50 people were injured in the pile-up, which happened on the northbound carriageway.
Transport secretary Justine Greening said it could be some weeks before the cause was known.
Hundreds of people have paid tribute to the dead and injured and their families on Facebook.
An inquest into the deaths is due to be opened on Thursday.