Call to adopt Cornwall currency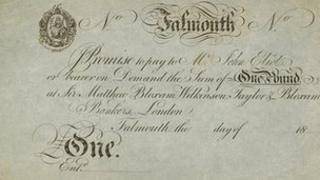 A Cornwall charity chief has suggested the county considers adopting its own currency.
Ian Jones, chief executive of Volunteer Cornwall, said the county should be considering "radical ideas" to protect its economy in the economic downturn.
He said the currency could be modelled on local currencies such as the Totnes and Lewes pounds which were created by the Transition Network movement.
The currencies are accepted in local shops to keep money in the communities.
Mr Jones said: "Communities create wealth but too often it is siphoned out.
"We have to keep wealth local."
He said authorities should "plan for the kind of Cornwall we want for ourselves and our children".
Mr Jones said: "It's no good if we endlessly talk about our problems, we need to start doing something positive now if we are to avoid being at the mercy of the global storm which is currently raging."
Several Cornish mining areas in the 19th Century set up their own banks and issued their own banknotes.
In 1974 banknotes were issued by pressure group the Cornish Stannary Parliament partly to "raise money to aid it in the restitution of Cornwall's legal right to partially govern itself".