M5 crash involved Cornwall firm Ginsters lorry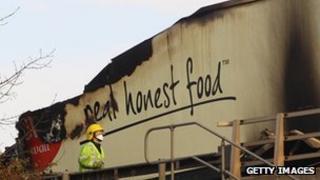 A lorry from Cornwall-based pasty firm Ginsters was involved in the M5 crash which killed seven people, the company has confirmed.
Leicestershire-based Samworth Brothers, which owns the Callington pasty firm, said two of its vehicles, a Ginsters and a Samworth lorry, were involved.
The firm declined to comment any further on the condition of the driver after the crash in Somerset.
The 34-vehicle pile-up on Friday night left 51 people injured.
Emergency services from around the South West were involved in the M5 rescue operation.
A stretch of the M5 is expected to stay closed for the rest of the weekend.
More than 700 people work at the Ginsters Callington plant which was bought by Samworth Brothers in 1977.