Falmouth sailors' concern for marine conservation plans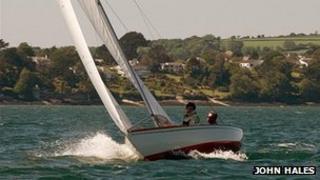 Sailing associations in Cornwall are challenging proposals to create a new marine conservation zone in Falmouth's Carrick Roads.
The aim of the Finding Sanctuary Project is to protect maerl (seaweed) beds which act as a nursery for commercial fish stocks.
The draft proposals are being considered by independent marine experts.
The Royal Cornwall Yacht Club says its racing could be stopped altogether.
Maerl is a slow-growing seaweed and the beds, which provide a habitat for other creatures, can be damaged by dragging anchors.
Impact assessment
The Draft proposals in the Finding Sanctuary Project, follow two years of collaboration with sea users.
Roger Hollingsworth, from the Royal Cornwall Yacht Club, said: "They want to make the St Mawes Bank a reference marine conservation zone.
"That means there should be no outside impact and it is quite clear that anchoring would be prohibited.
"If anchoring is prohibited then we cannot race in that area because we lay start and finish lines and temporary marks and their positions are always changing depending on the wind direction."
Local MP Sarah Newton has questioned the need for "another lot of designation" in the area which could stand in the way of activities such as sailing.
Dr Jason Hall-Spencer, from the University of Plymouth, who is on a panel of marine experts looking at the draft proposals, said: "I think the Finding Sanctuary Project has put forward some tiny areas, postage stamp size areas really considering the scale of the South West, where human activities will be removed as far as possible and anchoring will be not good for delicate organisms like maerl.
"In an emergency people could anchor but the aim is to alleviate pressure on the marine environment."
Natural England and the Joint Nature Conservation Committee are considering the Finding Sanctuary proposals and will prepare an impact assessment for the Department for Environment, Food and Rural Affairs (Defra).
That assessment will take both conservation and people's livelihood into account, a Natural England spokeswoman told BBC News.
Defra will then decide which recommendations to put out to a three-month public consultation next year, with the final decision expected next summer.