New home for Cornwall's American football academy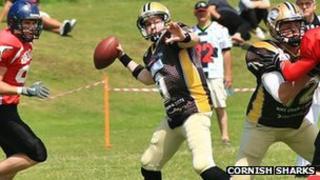 Cornwall's new American football academy has found a permanent training home.
Truro College has offered to host the Cornish Sharks' monthly academy classes on its site.
A number of junior teams have already been set up across Cornwall and parts of Devon.
Brian Smallworth, the coach of the Cornish Sharks American football team, hopes that about 200 students and young people will take up the sport.
'Best player'
Mr Smallworth said: "This year the sport's really taken off. We've got teams throughout Cornwall.
"Just yesterday we had about 70 kids playing American football, which people said would never happen.
"It's fantastic because it doesn't clash with rugby as it's done in the summer."
In September former Cornish Sharks player, Elliot Hoyte was described as one of the best young American football players that a top US college had seen in a decade.
The 18-year-old has been awarded a full scholarship by Boise State University.