Original Straw Dogs extras 'shocked' by scenes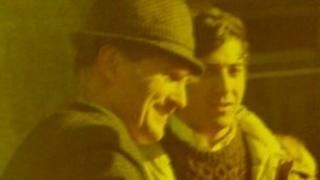 It had scenes that left people shocked and others denounced its plot as "rubbish" but 40 years later Sam Peckinpah's movie Straw Dogs is still sparking debate.
As a re-make of the movie - this time set in Mississippi - is released, extras from the 1971 original, made in west Cornwall, have been sharing their experiences.
Farmer Jim Hosking said some local people felt the movie simply gave the village of St Buryan, near Lands End, a bad name.
Mr Hosking, who supplied cows and was in several scenes, said those employed had no idea how the film was going to turn out.
"We had three weeks of filming and it was all fun for us and we enjoyed ourselves," he said.
However, plumber Tony Cocks, who is still a regular at the village pub that was one of the central locations, said the "actual plot and film itself was a load of rubbish".
Mr Cocks remembers the film-makers taking over the village but said that locals were left "disappointed with the final version".
"The only interest to us was to see someone you know and to see somewhere that you recognise," he said.
"When people come in the pub, we look at them a bit funny and say 'you're in Straw Dog country now', so be careful."
It starred Dustin Hoffman, who took the role of frustrated mathematician David Sumner, and attracted widespread criticism for its violence that included a rape scene of wife Amy, played by Susan George.
Referring to the rape scene, Mr Hosking said: "We thought it was so unnecessary to have such nice people like Susan George put through that, which we didn't know was going to happen. We were not happy at all.
"We suddenly realised how horrible and how wasted our time was", he added.
He said it was so unfortunate to have had the film made in such a "nice village".
Nick George, current landlord of the St Buryan Inn, still has photographs and posters on the walls of the pub recalling the time when Hollywood came knocking.
"We've got a picture of Dustin Hoffman playing the piano with Susan George and this was actually off air," he said.
"We also have a call sheet of all the people in the village that were used as extras, along with a picture of Susan George topless and that does cause a little bit of a stir."