Endangered deer from Cornwall to move to Spain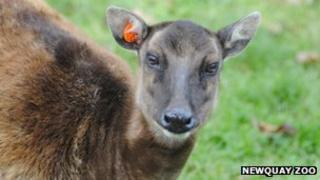 A rare deer that was born as part of a Cornish zoo's breeding programme, has been moved to a zoo in Spain to form a new breeding pair.
Phyllis the Philippine spotted deer was born in March 2010 to parents Alfie and Ameli.
The birth followed a breeding programme for the species at Newquay Zoo.
The deer is now being flown to Malaga, where she will contribute towards the captive breeding efforts at Fuengirola Zoo.
In the wild the deer can be found in the rainforests of the Philippines' Visayan islands of Panay and Negros.
It once roamed across other Visayan islands such as Cebu, Guimaras, Leyte, Masbate, and Samar.
John Meek, Animal Collection Manager said: ''Philippine spotted deer are probably the most endangered species of deer in the world - with 95% of their natural habitat having disappeared.
"They are also threatened by illegal hunting, which is why it is so important to breed these beautiful animals in reputable zoos.
"I am sure that Phyllis will be very happy at her new home, and am looking forward to hearing of her progress.''