Cameraman's 'risky' BBC Frozen Planet experience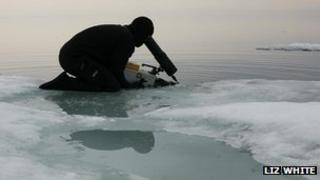 A cameraman from a village in west Devon has been sharing some of his experiences of working on the BBC's Frozen Planet documentaries.
Doug Anderson, 41, from Hatherleigh, braved sub-zero temperatures for two years capturing images for the series.
Narrated by Sir David Attenborough, the seven-part series explores the climate and wildlife of the polar regions.
Mr Anderson said it was "great to be a part of the wave of success" working on the programme.
The series focuses on the life and vast wildnerness of the polar regions and their inhabitants.
Mr Anderson said: "The first sequence I did was killer whales wave-washing seals off ice flows in the Antarctic peninsula, apex predator, top of the food chain in the sea, killing something in an entirely new way.
"Rolled the dice"
"It was like walking onto the Serengeti and realising that, lions dance to round up wilderbeasts, it just doesn't happen nowadays, you don't get new behaviours like that and we saw it in spades.
"That particular behaviour had been seen only six times in history.
"[Captain Robert Falcon] Scott saw it first in 1910, since then five other people have seen the event.
"We saw 21 wave-washing events, 16 kills, but mostly we got super lucky on that trip and everything came together," he added.
Mr Anderson said he would "hate to think what that trip cost for something so risky" but that when they took those risks on this series, they "rolled the dice" and they came up "trumps, time and time again".
He said at one point he witnessed a humpback whale try to "save" a whale seal.
"One day we had a humpback come in, where a killer whale had just washed a weddell seal into the water and this 65 tonne humpback managed to come in and get right underneath, getting the seal onto its chest and between its fins. Clearly the Humpback was trying to look after it."
In this case, the humpback did manage to save the whale seal.
"Killer whales are like bank robbers, if they turn up and anything is wrong, they leave because they just don't take risks."
Frozen Planet, Wednesday's at 21:00 GMT on BBC One