Anniversary concert to aid Cornwall flood victims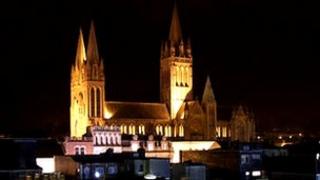 The first anniversary of last November's devastating floods in mid-Cornwall is to be marked with a fund raising concert at Truro Cathedral.
Proceeds from the event will go to the Cornwall Flood Fund set up by the Cornwall Community Foundation.
The money raised on the 11 November concert will help victims of the floods repair their homes.
The cathedral's director of music, Christopher Gray, said the concert was "a very positive way to raise money".
The concert - on 11 November - is a partnership between the Foundation, Truro Cathedral and the Eden Project and will feature both the cathedral's choir and the Eden Choir.
'Careful thought'
Mr Gray said: "The cathedral choir will open the concert with Cloudburst by American composer Eric Whitacre, which I was slightly concerned was an insensitive title for a piece, but the content of the concert will be very upbeat.
"This is the first time we've done something like this and as a cathedral we are really trying to reach out and connect with as much of the diocese as we can."
Diana Mullis, who was flooded out of her home in Lostwithiel last November, said she lost everything downstairs in her house.
Ms Mullis - who will be speaking at the concert - said it would be a combination of "a lot of careful thought, preparation and I hope people come and support it".
There will be a number of guest speakers, including Tim Smit, chief executive of the Eden Project, which was also badly affected by the floods, and Oliver Baines, a trustee of the Foundation.