Plans for 1,300 new homes for St Austell rejected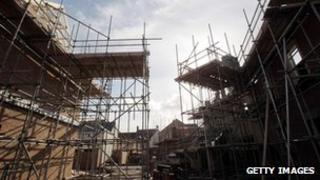 The government has turned down plans for up to 1,300 new homes on land north of St Austell.
Property developers Wainhomes had wanted to build what was known as the "northern extension" to St Austell.
The plan was turned down by Cornwall Council - whose decision has now been backed by Secretary of State Eric Pickles.
Wainhomes said the it would "be back with further proposals in the future".
Peter Crawford, from the firm, said: ""We're extremely disappointed with the decision.
"There is a huge demand for new housing, particularly in the St Austell area. There's currently a shortfall of 6,000 affordable homes for Cornwall.
"This site would have been producing about 520 affordable homes for local people."
St Austell and Newquay MP Stephen Gilbert said: "I've always been opposed to this plan. St Austell simply cannot sustain an extra 1,300 homes or the increase in residents that that would bring.
"An urban extension like the one proposed doesn't provide the jobs, public services or infrastructure to support such an influx of people."
But Mr Crawford argued that the company was not giving up on the scheme, saying it would "be back with further proposals in the future."