BBC Introducing: Jessica Sweetman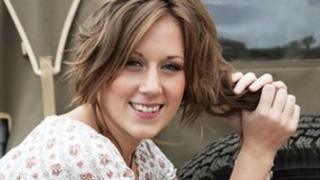 Jessica Sweetman has returned home to Cornwall to play a gig at a pizza restaurant in west Cornwall.
It may seem like an unusual venue for the singer-songwriter to perform, but her earliest concerts had been for the same restaurant chain when she was just 16-years-old.
Jessica and her family moved to Cornwall when she was 17, and from that point she started gigging around the county, gaining new fans wherever she played.
But last year she decided to move to London to "give this my best go with the music" and with that decision she also became well known in Slovenia.
She said: "Within my first week of moving to London I got a guest slot to sing at Ronnie Scott's - one of the world's most prestigious jazz clubs.
Bizarre twist
"I also supported Finley Quaye for two nights at Earls Court, so, I had a good start in my venture to the 'Big City'."
In a bizarre twist Jessica also became famous in Slovenia.
This success came about thanks to a mobile phone company's commercial that introduced her voice to millions of people.
Jessica had recorded a song called Angel Mine for a firm that provides library music to the entertainment industry.
Months later she was stunned to discover that the song was featuring on national television and radio in Slovenia.
Jessica said: "The first I heard of it was when I received an e-mail from someone called Igor who said he loved the song and wanted to know if he could buy it.
"I wasn't sure what he was talking about, but I followed a link in his e-mail and discovered the song was being used as the backing track for a TV advert in a country I'd only vaguely heard of.
For last two months Jessica has been busy spreading her name and music around London.
She said: "I have been gigging more than I have ever been up in London, and I now have my album out 'When It Comes To Love'.
"I am currently having my new website designed, and I am starting to increase my following up here in London.
"It's been a very tough year and it's a ruthless business to try and survive in, but things are really starting to go in the right direction and I know it's only a matter of time until I accomplish my dream."