Wave hub cables exposed on Hayle beach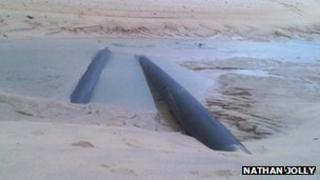 Buried cables from a £42m system designed to carry electricity from wave energy machines have surfaced on a west Cornwall beach.
The wave hub, a giant electrical junction 10 miles off Hayle, is linked to the National Grid.
The company behind the hub said cable linking it to the shore was originally buried deep in the beach.
In the past few months sand levels at Hayle have dropped and the cable is now visible above the sand.
Local resident, Nathan Jolly, who spotted the cable on Hayle beach, said: "What's been exposed is about a three metre section of cable which is linking the substation to the hub. It's quite an eyesore.
"I was out running and almost tripped over this thing. I don't think it will be very long at all before more of the cable is in public view.
"Anyone who uses the beach on a frequent basis can see the amount of erosion and sand that is being removed from there is massive."
Claire Gibson, general manager at Wave Hub, said the cable was not a danger to the public but they "were keeping a close eye on it".
She said: "I would advise people not to go near it. We are mindful of the fact that there is a cable laying across the beach that is used by local people.
"In terms of our monitoring we put the cable in the right place. The beach levels have reduced significantly in the last 18 months which is something we couldn't have foreseen."
The team behind the hub said it was now getting permission from the Marine Management Organisation to bury the visible cable under huge sandbags.