Gintaras Butkus jailed in Cornwall boat killing case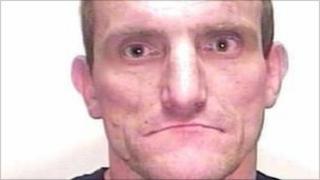 A man has been sentenced to six years in prison for killing a man during a fishing trip off the Cornish coast.
Gintaras Butkus, 41, from Lithuania, pleaded guilty to the manslaughter of Jesse Tracey, 56, from Penzance.
Mr Tracey from Penzance was pushed or fell overboard from a rowing boat in Mounts Bay during an argument between the men, Truro Crown Court heard.
The judge recommended that Butkus should be deported after serving his sentence.
The court heard that Butkus and Mr Tracey had been in a small rowing boat leaving Penzance harbour in May.
The pair had been out stealing a motorboat engine the previous night.
David Prior, a volunteer watch officer at the National Coastwatch lookout station, said he saw through binoculars the occupants become agitated and starting to fight.
He told the court that after they had grappled Mr Tracey either fell or was pushed overboard. A post-mortem examination found he had drowned.
The prosecution said Butkus did nothing to help Mr Tracey and when inshore lifeboat men from Newlyn tried to help, Butkus hit their boat with his oars.
He also threw back a rope which they had thrown to him and at no point did he say Mr Tracey was in the water.
There were shouts of anger from Mr Tracey's family as the judge, Mr Justice Burnett, said he had to take into account that Butkus pleaded guilty to manslaughter and had shown remorse.
Butkus will serve half his sentence in prison, and taking into account the time he has been on remand he will be released in two and a half years.
Mr Tracey's daughter, Rachel Tracey, said after sentence was passed: "He gets out in three years for killing my dad?
"He's an animal."