Plea accepted in St Michael's Mount boat death case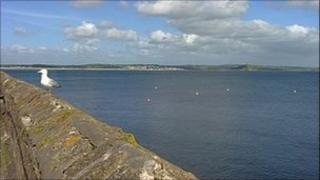 A Lithuanian man has pleaded guilty to involuntary manslaughter after a man was killed in a rowing boat near St Michael's Mount in Cornwall.
Butkys Vidmantas, 49, from Lithuania, pleaded guilty to the manslaughter of Jesse Tracey, 56, from Penzance.
Mr Tracey was pulled from the water by a lifeboat crew in Mount's Bay on 24 May and was later pronounced dead.
Vidmantas had been due to stand trial for murder at Truro Crown Court but the prosecution took the manslaughter plea.
The Lithuanian, who had previously been named as Gitarus Butkus in court, will be sentenced on Tuesday.
Maximum sentence
The court heard that he and Mr Tracey had been in a small rowing boat leaving Penzance harbour.
David Prior, a volunteer watch officer at the National Coastwatch lookout station, said he saw through binoculars the occupants become agitated and start to fight.
He told the court that after they had grappled Mr Tracey either fell or was pushed overboard. A post-mortem examination found he had drowned.
The prosecution said Vidmantas did nothing to help Mr Tracey and when inshore lifeboat men from Newlyn tried to help, Vidmantas hit the boat with his oars.
He also threw back a rope which they had thrown to him and at no point did he say Mr Tracey was in the water.
Lord Justice Burnett said he would recommend the maximum prison sentence of six years and said it could not be more because there was a lack of evidence.