St Julia's Hospice extension opens in Hayle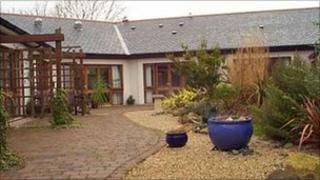 A £1.5m extension to a hospice in west Cornwall has been opened by the Bishop of Truro.
St Julia's hospice in Hayle now offers new consulting and therapy rooms, an improved reception area and training facilities in the outpatient facility.
There are four more bedrooms making a total of 12 in-patient beds.
The new extension also offers an enclosed private courtyard garden for patients and visitors.
The work was part-funded from a £496,000 grant from the Department of Health, part of a £40m capital grants programme to improve adult hospice care facilities in England.
About £300,000 has been raised by the local community.
The chairman of the board of trustees at Cornwall Hospice Care, Dr Adrian Walker, said: "We've had a great demand for in-patient beds in the west of the county. This will allow us to meet a large amount of the demand.
"For many patients who currently have to travel to Truro and beyond for treatment, for chemotherapy, blood transfusions and so on, we hope to be able to provide that service at St Julia's."