Saltash science teacher given top award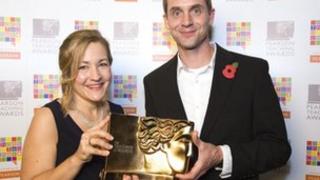 A Cornish teacher has been awarded what has become known in the world of education as a 'teaching Oscar'.
Nicki Bovey, head of chemistry at Saltash Dot Net Community School, received one of the prestigious Pearson Teaching Awards.
Mrs Bovey was named science teacher of the year.
The judges in the teaching awards described her as a "whizz bang" chemistry teacher who gave "unforgettable lessons".
Mrs Bovey is said to have transformed GCSE results in four years to some of the best in the country.
More than 80% of pupils at the Saltash school achieved A*-C grades in chemistry this summer. The report from the judges said A Level numbers had doubled.
The teacher has led three World Challenge Expeditions to Thailand, South Africa and Brazil and organised schemes like the Duke of Edinburgh Award.
Mrs Bovey was nominated by students on the school council.
She said: "What an accolade. I am a little embarrassed because it makes me sound like a fab teacher, but I am from a great supportive school, a great science department, and we work well as a team. It's more of a team win really."
The awards were presented on BBC Two on Sunday night. The ceremony was presented by comedian Lenny Henry.