Council's adoption process slow and "humiliating"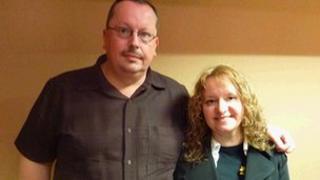 A west Cornwall couple have described the adoption process as "humiliating" and like "hell" and have called for a new body to take it over.
Currently local authorities control the process in England.
Chris and Margee Polwaski were described as "high achievers" by an adoption panel which would lead to "unrealistic expectations" of a child.
Cornwall Council said it understood fully "how hard it must be for people who are not approved as prospective adoptive parents".
"However hard we try, it will never be the case that every application is successful," it said in a statement.
'Best couple'
Mrs Polwaski was speaking to BBC Radio Cornwall following the release of The Children in Care and Adoption Performance Tables by the Department for Education which shows how each local authority is performing.
She said: "According to our social worker we were the 'best couple he had had for years', but the adoption panel didn't agree.
"This happened two years ago and the adoption process had already taken 12 months."
Mrs Polwask said the adoption panel was very "prejudicial" and described the whole experience as "hell".
"All we have received was an apology letter from the boss at our council, but nothing else.
"No-one came to visit us, no-one bothered to meet us to discuss it with us," she added.
Along with her husband, she has called for adoption to be "taken out of the authority of the county council and given to an independently established adoption body".
Manager of Cornwall and the Isles of Scilly's adoption agency, Veronica Yates, said she was concerned that without more couples willing to adopt, children would have to be placed in other counties.
A spokesperson for Cornwall Council said it could not comment "on individual cases".
But in the statement, it said the panel worked "within the adoption legislation which includes ensuring that statutory and personal references are undertaken, alongside criminal record bureau checks and medicals".