Isles of Scilly divers find Bryher stolen church cash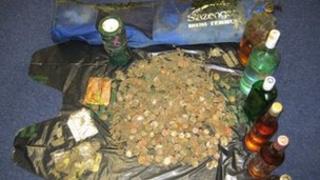 Scuba divers on an archaeological survey off the Isles of Scilly have recovered cash believed to have been stolen from a church collection box.
The theft happened on Bryher in August, when money was also stolen from the island's charity collection boxes.
PC Matt Collier, who works for Devon and Cornwall Police on the islands, said the thefts had "sent shockwaves" through the local community.
Soaked bank notes and coins were in a tennis bag in just 3m (9ft) of water.
About £1,000 was stolen from Bryher, but only about £200 has been recovered.
PC Collier said police were contacted by Dave McBride, one of a team carrying out an archaeological dive in the Tresco Channel from the dive boat Tiburon.
The money was found in a "distinctive" Slazenger tennis bag - along with several dead crabs and bottles of alcohol.
Anyone who recognises the tennis bag or has information which could help with the investigation is asked to contact police.