Ploughing contest held in Sennen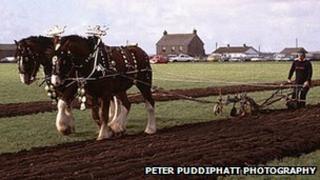 An army of tractors, ploughs and horses are in Cornwall to take part in the annual ploughing contest.
The Western Area Agricultural competition at Kerrow Farm, Sennen, will involve 87 ploughmen and women tackling 30 acres of ground.
They will compete in 15 different classes, including horse-drawn ploughing.
The current British young farmers' champion, 26-year-old Ian Brewer from Wadebridge, will compete in the event.
The Western Area contest is affiliated to the Society of Ploughmen, a registered charity founded in 1972 and run by volunteers from the farming community.
The society is responsible for the British National Ploughing Championships and for managing the England, World and European ploughing teams.